Iris is starting the year as we mean to go on, taking delivery of a container of beautiful Indian inlay furniture. Mother of pearl and camel bone inlaid furniture in a plethora of colours, much of it bespoke made to measure orders. The black bone inlay sideboard with 6 drawers was designed by the customer over a few emails with Iris. Simple sketches were exchanged until we had the design agreed and photos are sent just after manufacture to check the customer is happy with the product before it leaves India.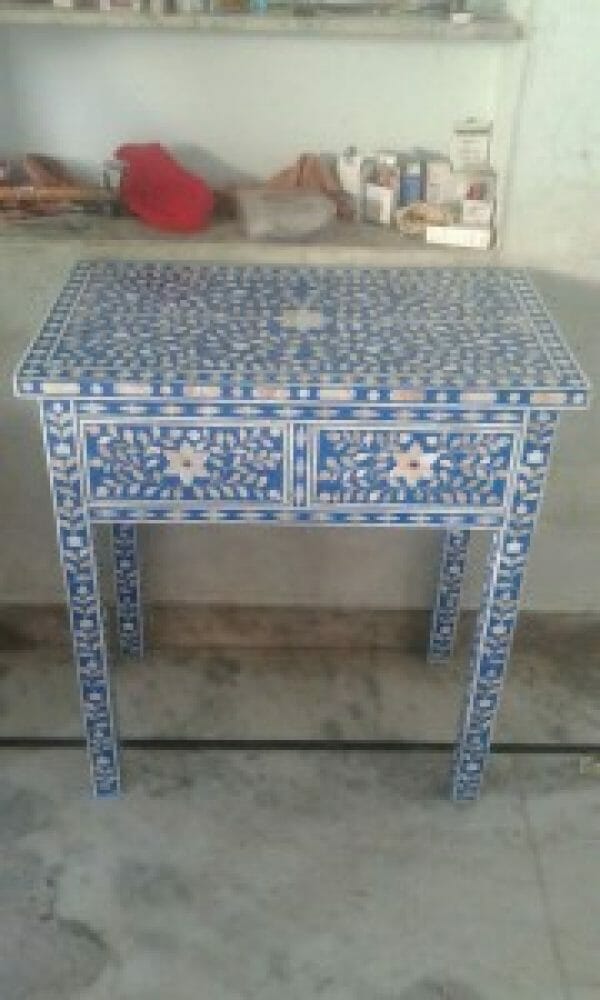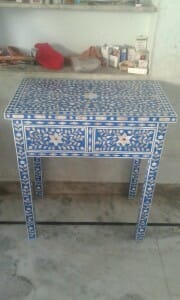 This  blue mother of pearl inlay dressing table is also custom made, the client required a scaled down two drawer version instead of the usual 3 drawer width. Iris have a terrific friendship with our head furniture maker in Udaipur that makes these highly individual pieces possible. Without this close partnership it would be impossible to carry out such specialised bespoke orders.We visit India several times a year to inspect our orders but more importantly to soak up the atmosphere, see whats new in the Rajasthani furniture warehouses and catch up with our friends.
We have also been adding new geometric bone inlay patterns to our range. The black bone inlay chest of drawers seen here is a Chevron design that is proving popular with our customers. This inlay pattern can be applied to any item of Indian furniture, and can utilise mother of pearl or acrylic instead of bone if preferred.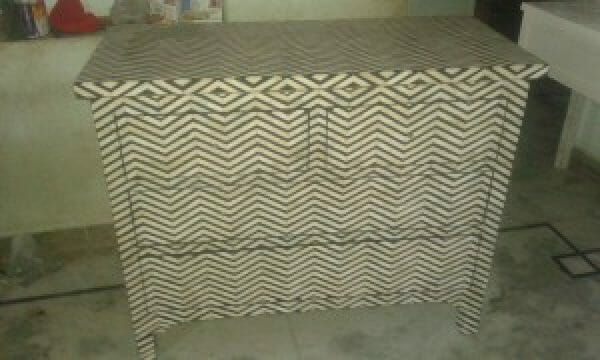 Jodhpur is the hub of the furniture industry in Rajasthan. Its a veritable hive of activity with thousands of craftsmen applying their skills to a wide number of styles and traditions of furniture making. From the traditional dark carved teak wood, to the brighter Rajasthani Painted furniture, reclaimed furniture and embossed metal too. Beyond these traditional styles that we associate with India there is also the emergence of new and exiting trends, like the aircraft furniture that you see here. The aluminum laminate has the rivet effect you see on aircraft, a classic example of the ingenuity of the local craftsmen, often recreating designs bought over from the West by European designers. Without regular visits Iris would not have discovered this. We are now proud to offer Aircraft furniture in our bespoke order service, if you wish to see more images or want more info please email info@irisfurnishing.co.uk
Another discovery was this paisley painted furniture. The same wooden models that we buy for our Rajasthani Painted furniture are adorned with patterns that don't conjure a taste of India so much, but lean towards 1960's psychedelia . We have stopped short of offering this in our range, but any queries regarding these patterns can be followed up with more imagery. Without regular visits to the region these quirky creations would pass us by. We have learned that there is no substitute for frequent visits to get the most out of Rajasthan's creativity. We look forward to bringing more beautiful and unique furniture in our regular blogs.