We have come across all sorts of bone inlay accessories on our Rajasthani travels. Beautiful bone fruit bowls in a variety of colors offer an eye catching statement of Indian style. Mother of pearl and camel bone inlay furniture can be beautifully complimented with small and useful inlaid trays or pen holders or tissue boxes. As you can see here any pattern and colour can be applied and they come in all shapes and sizes. We welcome bespoke orders for any accessory when accompanied with an item of furniture. With larger orders we would gladly include complimentary accessories. Simply give us the dimensions and style of the tray or bowl you require, and we can make it to match your chest of drawers or dressing table in colour and pattern. Camel bone of mother of pearl can be used to inlay these trays, the example here are bone and are all inlaid by hand using delicately carved fragments artistically laid out by our craftsmen.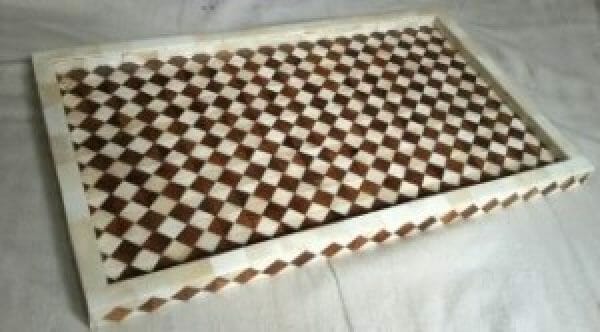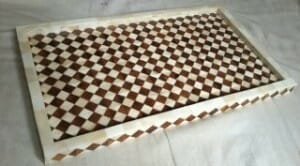 As well as trays and bowls Iris accessories like these beautiful stools and boxes can be ordered too. Again these can be bespoke to suit your requirements. You can let your artistic impulses run wild to create the perfect compliment to your inlay furniture. Iris is proud to offer free accessories on all bespoke orders of 3 or more items.
The different inlay patterns displayed in these Indian stools illustrate the diversity on offer with inlaid accessories. The geometric bone inlay pattern on the right hand stool proves popular on our bone furniture and we have made numerous chests of drawers in this pattern. The floral inlay pattern of the left hand stool was inspired by a customers photo of wall paper that she really liked. The customer sent us the image and we forwarded this to India, and this stool is the result. The boxes in the middle are Painted Camel bone. See how the organic grain of the bone is still visible beneath the blue/green paint to give a beautiful variation of shade and tone. If you like this effect we can quote you for furniture in this finish too. You can imagine any combination of inlay pattern and colour, wherein the resin can be coloured and the bone inlaid into the resin can also be coloured. Iris is constantly looking for new and innovative creations, that is why we are more than happy to embark on bespoke projects requiring new and exciting ideas. We may ask permission, should we like the finished item, to display it on our web site for other customers to view.