Iris just has to share this bespoke furniture success story to a returning customer from Paris. Frank and his wife had already purchased the two largest bone inlay almirahs Iris had ever made. At 2.4 my high these towering cupboards sat side by side in the bedroom of their stylish apartment.
In an understated shade of grey, the sheer volume of bone pieces in the floral mosaic present an awe inspiring testament to Indian workmanship. Frank and his wife Steph chose to customise the interior of each cupboard with shelves and hanging rails to suit their needs. So these bone inlay wardrobes are both beautiful on the outside as well as highly functional on the inside.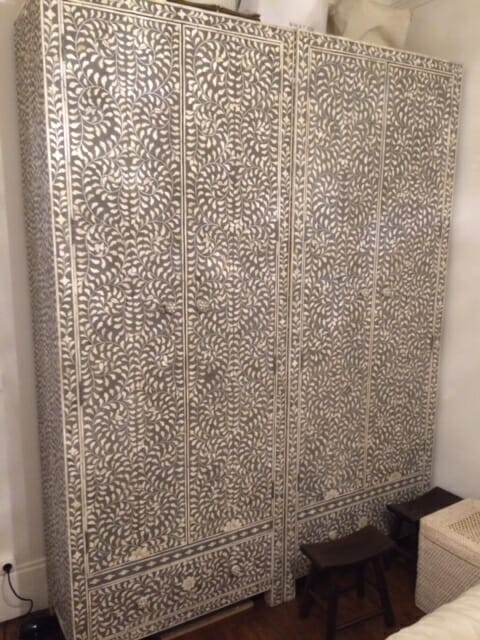 Iris shipped these two behemoths to the UK in a full shipping container of inlay furniture from Rajasthan. This ensured these extremely heavy cupboards were not heaved and hefted around by careless couriers countless times, which would have been the case if they were shipped individually. Tightly and snugly packed into a full container at our suppliers warehouse in Rajasthan they were not touched by human hand until they were unloaded at our warehouse in Brighton. We then transported them to Paris in our own van to Frank and Steph's door where they arrived unscathed.
Frank and Steph were so happy with these highly unique hand made Indian wardrobes that they ordered three more bespoke pieces for their home. With real a flair for functional style they designed this incredible bone inlay coat cupboard for the hallway of their apartment. To provide intelligent storage for coats they requested a cupboard 2.3m high cupboard that did not open on the front face, but rather had doors on either end, allowing a beautiful surface of bone inaly design to adorn the front face.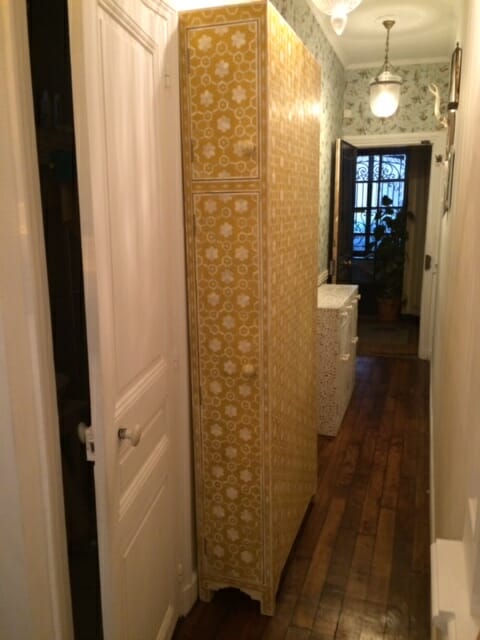 Remember this pattern is not painted, this is created with hand carved fragments of camel bone pain stakingly laid out in this delicate repeating geometric pattern. The warm and soft hue of the mustard coloured resin perfectly compliments the cream tones of the bone, so what could be an imposing and over powering cupboard successfully blends in to the entrance of the apartment.
Just behind the coat cupboard you can see another inlay item from Iris. A White Mother of Pearl sideboard, made to measure, is a stylish shoe cupboard with adjustable shelves inside. Allowing their hallway to be entirely uncluttered by coats and shoes, they now also have a handy but gorgeous surface to display photos or plants. Carefully ordered at the correct height to sit below the rail this beautiful mother of pearl inlaid shoe cupboard has two sections with numerous options for positioning of shelves to ensure all their footwear is tucked out of sight.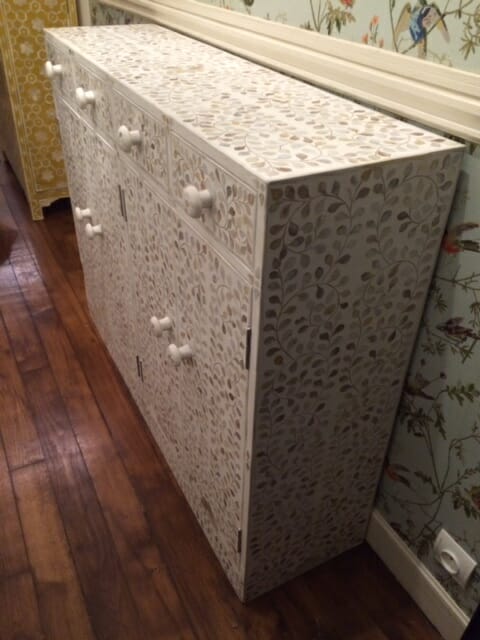 And lastly, a petite French style hall table in black mother of pearl completes the set. Custom made, fashioned from a sketch that Frank sent, it has a scroll detail below the table top to copy the detailing on our wave fronted mother of pearl inlay chest. Perched on elegant curved legs with an inlaid shelf beneath it also combines form, function and style- a truly unique fusion of French taste with the time honoured tradition of Rajasthani inlay craftsmanship.