We thought we would share with you some of our special bespoke creations over the last few years. These enquiries take many forms. Some customers prefer to simply explain their requirements for bone inlay furniture with words. "I love your Almirahs but can I have one in lilac?" Or, "I would like a mother of pearl inlay bedside cupboard, just like the ones on your website but I want it a bit taller, 75cm instead of 60cm, so the cupboard section is bigger- the drawer remains same size." Simple as can be, and here is the result, a taller charcoal mother of pearl bedside cupboard.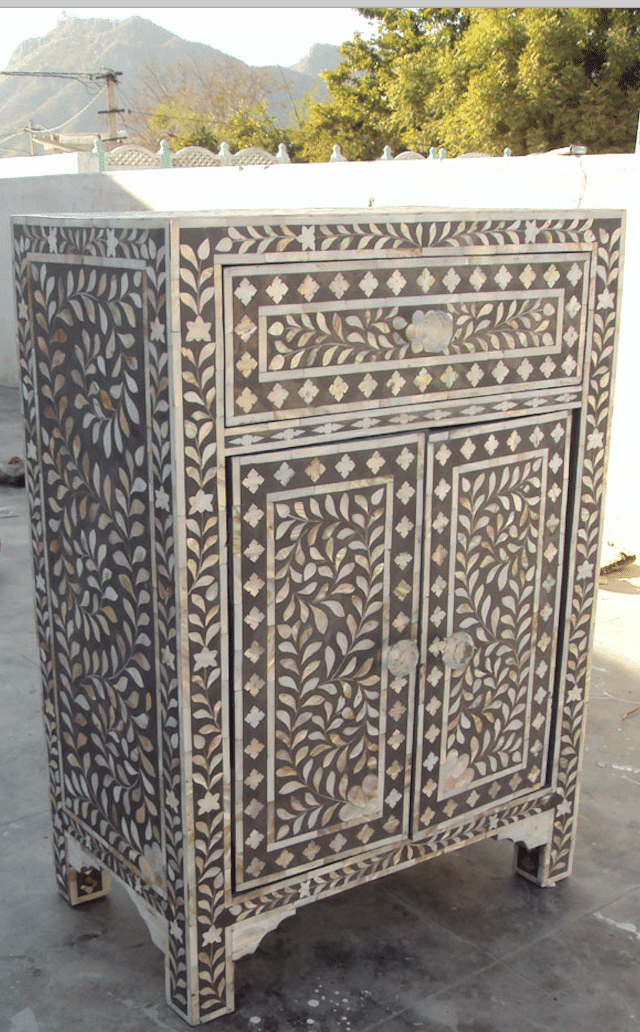 Some customers have preferred to send sketches. We are not talking technical drawings here, just sketches of varying degrees of sophistication.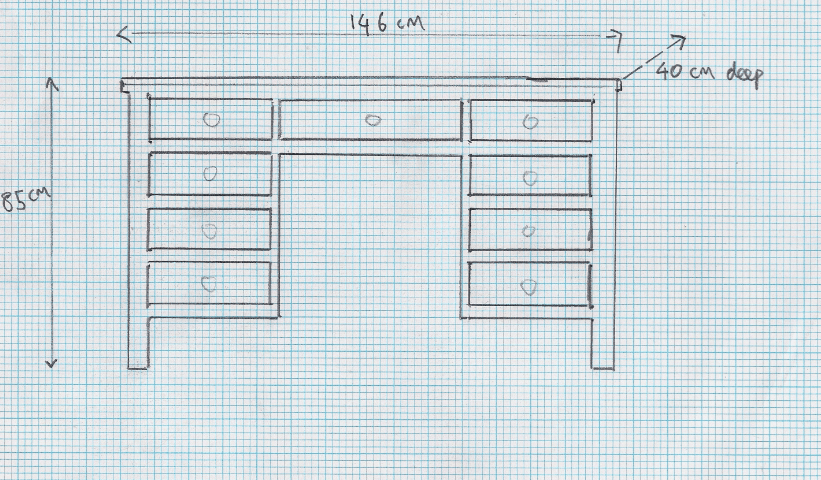 This sketch of a 9 drawer desk was simple but effective, coupled with a discussion we had on the phone about our bone inlay 5 drawer desks- it was clear what the customer required. A white bone inlay writing desk with inlay handles, 9 drawers, floral inlay pattern but 20cm less wide than our standard model. Here is the image I sent him from India before the shipment left Rajasthan.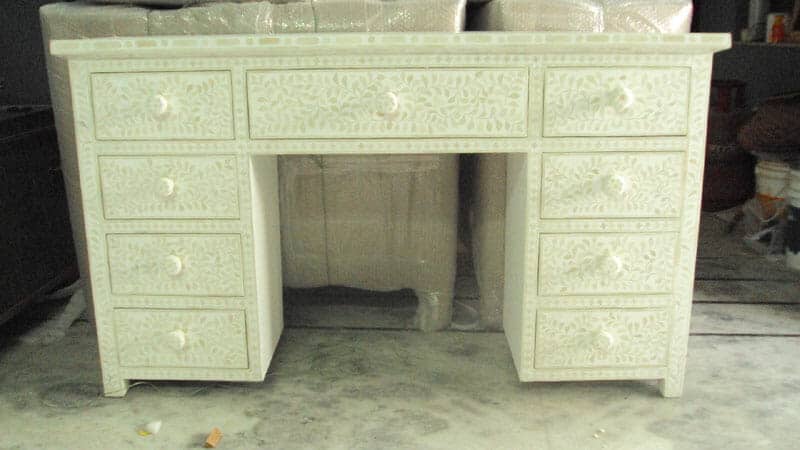 Another customer described her requirement for a white mother of pearl desk with cupboard sections at either end. We then sent her a photoshop image we had created for her approval.
Again this worked really well (you can see the customers comments in our testimonial section) as we always send sketches, images and photos with our order document- the more information the better. Here is the white mother of pearl desk, though you can easily imagine it as a mother of pearl dressing table, in our warehouse in the UK before sending to the customer.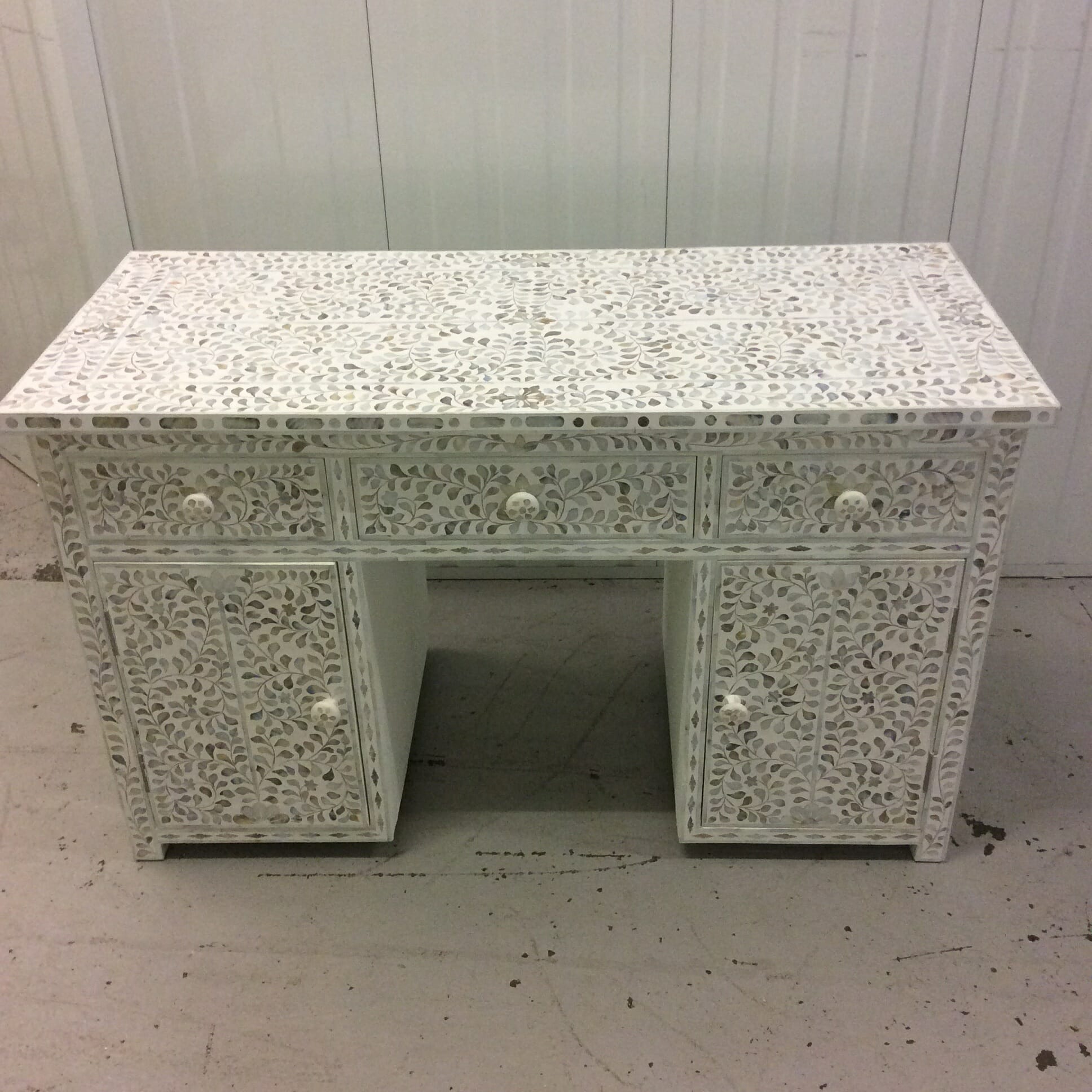 We also offer the bespoke Indian furniture service in our Painted range. One of our customers requested a pentagonal corner cupboard. This succinct technical drawing coupled with an image from our website says it all. But please don't feel you need to send us accurate technical drawings like this. As we have shown, rough and ready sketches work just as well!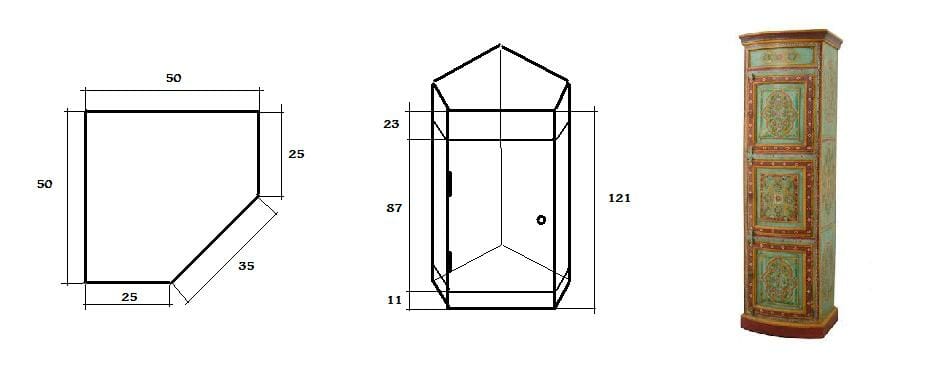 A customer in Paris had a vision for a yellow bone inlay coat cupboard for their hallway which was quite narrow. Hence the 2.3m high cupboard had no doors on the front,  but instead on either end. Here are some of the sketches that were sent to convey the idea.
Here are some images of the stunning bone inlay cupboard that resulted from these early concept drawings.