The scope of some of our recent bespoke items is far reaching, and represents quite a departure from the traditional inlay items found on the site.
Take a look at this cute little console unit, made to measure for a customer with a narrow hallway, its only 30cm deep and has 2 shelves with a closed back which is also inlaid with mother of pearl. On this occasion the customers' requirements were established through an email dialogue. On other occasions we have been happy to receive customer sketches.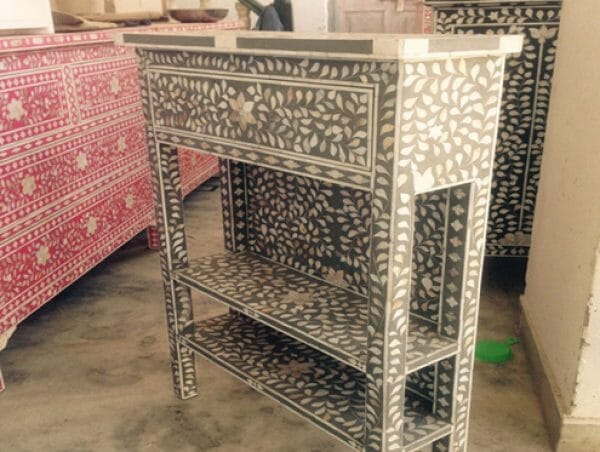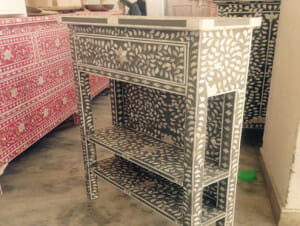 As you can see this item really is a departure from our range, and we hope this illustrates how far you can take our bespoke service. The only real limit is your imagination!
Here is another example of an exciting new design made to a customers specific requirements. Our customer wanted a very wide but fairly low sideboard in Black bone inlay, with 3 sets of drawers. She was also keen on having the piece standing proud on elegant legs with a good clearance off the ground. Here is the result (still in the manufacture phase)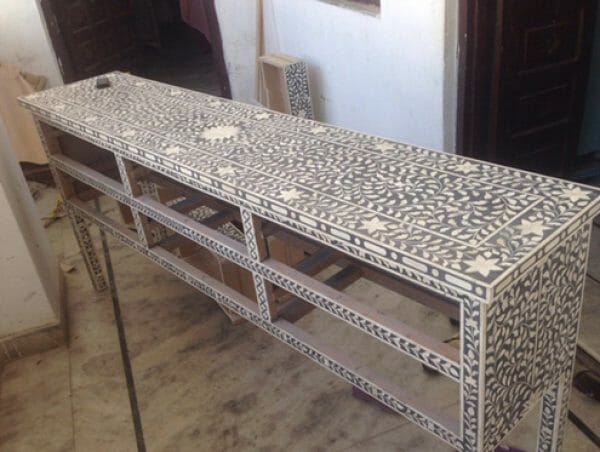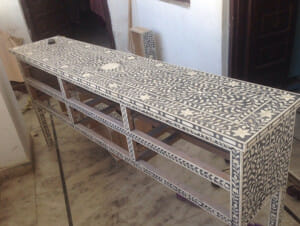 Another example of our customers choosing bespoke inlay furniture that is a departure from items listed on our web site was in this White Mother of Pearl inlay trunk. In this instance the customer sent us an image of a trunk they liked the style of, and asked us to recreate it in Mother of Pearl inlay. This is actually quite a common and useful way for customers to convey the style of the item they would like and the results are very pleasing. As you can see here, our furniture makers have recreated the over hanging lip and on the lid of the trunk and the panel effect on the sides of the trunk from the image of this White Metal item sent to us by the customer.
Customers image for reference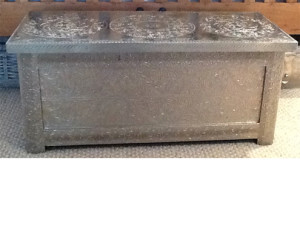 Bespoke Mother of Pearl trunk created by Iris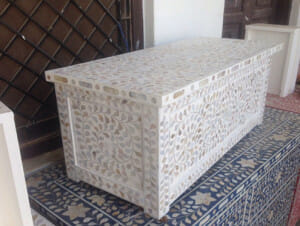 Yet another example can be seen here in this bespoke Grey bone inlay console cupboard. Again the customer had a fairly narrow hallway and wished to have an elegant inlay item that was narrow enough but yet offered functional storage options. Together we created this console cupboard, through an email dialogue and the sharing of images as in the case above. On this occasion we were sent the following image of a Graham and Green mother of pearl console unit.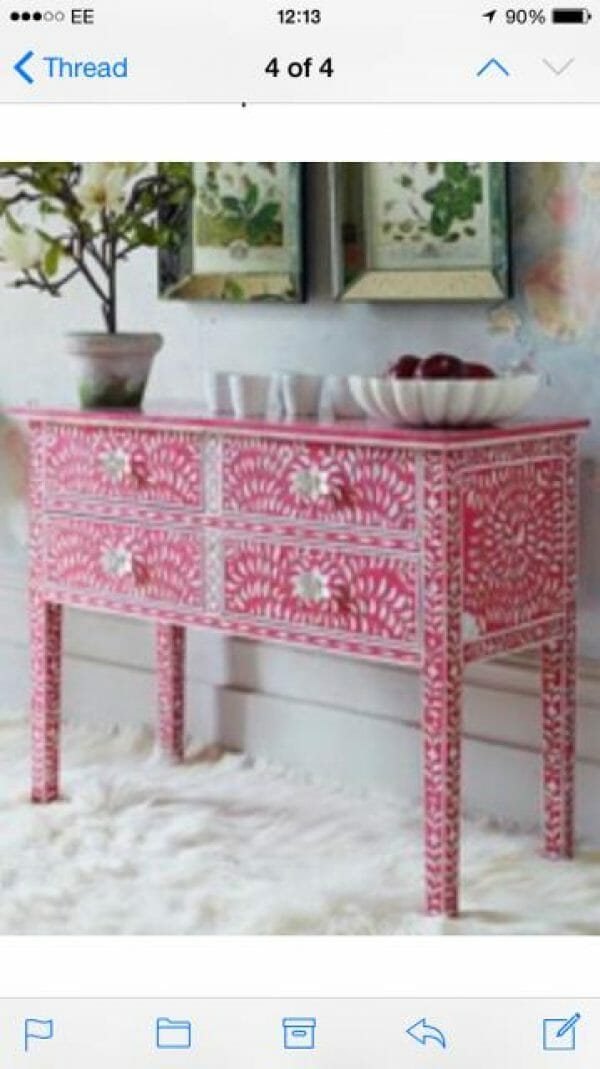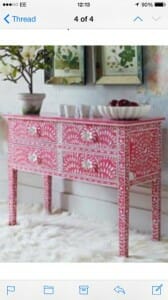 However the customer was very clear that they wanted cupboard doors rather than drawers, bone instead of mother of pearl, and a pale Grey instead of the Raspberry seen above. We feel that the reward in receiving an item of furniture that you have designed and conceived in collaboartion with Iris is far greater than in choosing an "off the shelf' item. We find that bespoke customers often come back to us again and again with new designs and requirements. We invite you to unlock the designer within and order bespoke inlay furniture through Iris, simply email your request to info@irisfurnishing.co.uk.